By JULES VIVAS

Children are masters of the moment. Have you ever seen a toddler smear finger paint over a sheet of paper to form squiggles, coloring in bountiful spirals using crayons, pounding on clay-doh, or sprinkling glitter all over? Kids express themselves through art on a fundamental level. Art in general allows us to work through feelings and emotions, but this holds especially true for children.
Some of us instinctually know that art is vital for a child's development. Doing art can expand their ability to interact with the world around them. Art develops the right side of the brain, and cultivates important skills like freethinking and analysis.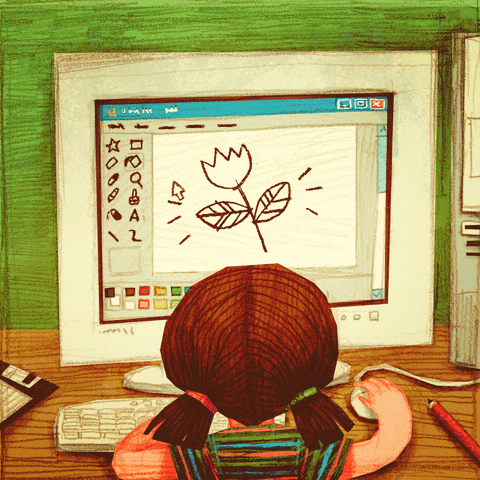 In the current pandemic, the manner by which we go about our day-to-day lives has drastically changed. Even in the arts, new practices have been put in place for the industry to survive. Online art galleries, for instance, have become cultural saviors.
In terms of art for children, on the other hand, there is available online content such as new multimedia and hands-on activities that include interactive games, art-inspired storytelling video sessions, as well as artist masterclasses and art tutorials. A website of particular interest that lets families and children immerse into arts is the National Gallery Singapore's "Gallery Kids!"
The progressive art museum's digital platform has four main offerings.

My Ink-credible Adventure Interactive Game
An online game for kids to explore abstract expressionism in an open and playful manner. Players may choose various combinations of ink splashes, splatters, and drops to create their own painting. Inspired by the space of the same name at the Keppel Centre for Art Education (KCAE), this collaboration between National Gallery Singapore and the Yeo Shih Yun encapsulates the latter's decades-long love affair with the fusion of traditional and contemporary art mediums.

Artist Masterclass
Listen to some of the most famous artists in Asia such as Singaporean painter Yeo Shih Yun talk about the process of art creation, trying out several mediums, and experimenting with various techniques. Guided by Yeo, teenagers can learn to build their own unconventional painting tools from items found around the home.

I-Spy Game
Children between four and nine years old can don their detective hats in a weekly I-spy game, where they are prompted with questions to identify items, colors, and patterns.

Downloadable Art Activities
Suitable for families with children from ages three to 10. There are art activities available for download that will push your creative side and get anyone inspired by various artworks from the gallery's collection and special exhibitions. This hands-on experience will continue to engage and cultivate children's interest in art, through an array of activities ranging from sketching portraits using simple lines to designing buildings using architectural features found in the gallery.

"Art can be a wonderful way for kids to share their creativity, imagination and thoughts while developing their fine motor skills, confidence, and expressions," said Ye Shufang, deputy director of education at the National Gallery Singapore. "As parents spend quality time with their children, we hope that 'Gallery Kids!' will provide families with the inspiration and ideas to explore and create together, and experience meaningful and playful family time."
Aside from content readily available online, families can also participate in craft projects inspired by five key artworks by Singaporean and Southeast Asian artists. These works will also take center stage in the gallery's upcoming #SmallBigDreamersAtHome, an online edition of the bi-annual family offering from June 1, aimed to ignite children's imagination toward art creation through play.
Using materials that can be found at home, children can

1. Construct and design a three-dimensional house, inspired by Ruzaika Omar Basaree's Dungun Siri II (1978), a sculptural painting based on a traditional Malay window that assembles everyday materials such as window locks, pieces of wood, and carvings.

2. Make their own gamelan instrument, similar to how artist Sudjana Kerton combined shapes and lines to express his memories of the gamelan in the painting, Gamelan Orchestra (1960).

3. Experiment with light and shadows based on the principle of still life paintings like Georgette Chen's Tropical Fruits (1969).

4. Create vibrantly colored art with tangrams to discover the warm and cool colors reflected in Choy Weng Yang's Horizontals I (1977).

5. Make their own abstract ink painting, inspired by Yeo Shih Yun's brushstrokes and ink splatters at My Ink-credible Adventure.
Source: Manila Bulletin (https://lifestyle.mb.com.ph/2020/05/26/online-art-activities-for-the-young-and-young-at-heart/)