By MARTIN JAVIER
With many of us glued to our phones and laptops this quarantine, we have developed two habits that get us through our days: binge-watching Netflix shows and spending hours and hours playing our favorite video game. When the streaming giant released Extraction on April 24, it somehow managed to give us both elements in a single viewing experience, making it the ideal quarantine movie. Gaming fans, like myself, also couldn't help but wonder: Are we in a Call of Duty mission? Its similarities with the widely popular video game are uncanny.
Marvel star Chris Hemsworth headlines this action blockbuster as he plays soldier-turned-mercenary Tyler Rake. Tyler has to save the son of an Indian drug lord who was kidnapped by a rival in Bangladesh. The film also revolves on Tyler's connection with Ovi Mahajan, played by Rudhraksh Jaiswal. The story starts with him accepting a mission and going through a plan until someone decides to hijack the operation. This is where the chaos—and the fun!—begins.
For ordinary viewers, it should be a solid watch. Though the plot is nothing out of the box (mercenary-themed flicks are common, after all), its execution makes for an exciting watch. The long takes in gunfights, most especially, gave it true video game feels and perspective. This is why gamers appreciate it on a deeper level. Once Tyler's mission starts, we are quickly transported to a Call of Duty battlefield. At this point, one couldn't possibly go through the scenes without recalling a similar situation that happened in the game.
Gun spotting
"Hey, he's carrying an M4" or "Those are AK47s on the police" or "Man, this is some good sniping action." These were thoughts that popping in my head while I was watching Hemsworth obliterate an entire army.
If you play Call of Duty, it's hard not to name each gun that shows up. And this is loaded with the most recognizable weapons you can find from the game, including explosives and RPGs.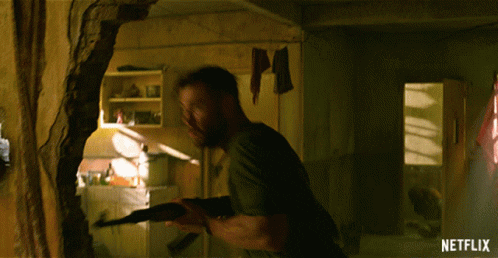 Battle Royale mode
"Welcome to Battle Royale."
Call of Duty: Mobile fans know. That moment when Rake switched to survival mode felt like the start of a "battle royale" (BR) match. It's every man for himself. Alone and with a kid to save, Rake proceeds to kill multiple enemies (some in one sprint)—which can only happen in video games, of course.
But alas, just like in BR, getting many kills doesn't guarantee a win. After a ridiculously high body count, Rake gets shot by Farhad at the side of the neck, signifying a win with his lone kill. This one struck right to the core. All that work, and you have to settle for number two.
Other elements like escaping with a chopper, hiding and stalking enemies, flipping out smoke grenades to escape, and helping a teammate survive are some scenes first-person shooter game fans could relate to as well.
Overall, it's a must-see for gamers and non-gamers alike. Chris Hemsworth gives justice to a character he might play for years to come. And in his directorial debut, Sam Hargrave scores A-plus with his fantastic treatment. Extraction is 117 minutes you won't regret.
Extraction is streaming on Netflix.
Source: Manila Bulletin (https://lifestyle.mb.com.ph/2020/05/22/into-the-warzone/)