By JULES VIVAS
Galleries with pieces from emerging artists, theaters that are home to great plays and musicals, even coffee shops and bars where local performers go to express themselves are all closed. And yet, there is a constant, unifying drive to do what artists have done throughout history—continue to create. The only thing that has changed is the method by which some share their work.
Art is expression, a way of joy, of making people understand things, which, otherwise, can't be done. It is an essential ingredient that gives life color, scent, flavor, purpose, and meaning. Without these "chefs" to make art, we'd all be starved to death. Here's what young artists can learn from the pros in this global health crisis.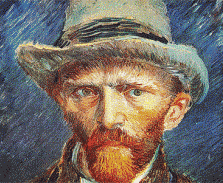 Laugh it off
Filipino comedian Red Ollero, in a previous exchange with Manila Bulletin Lifestyle, mentioned that adapting to the times is important now more than ever. "There's nothing we can do but to look for an opportunity in all this. At first, some comedians felt terrible for being jobless and useless in this pandemic. When we found a way to entertain people it became better," says Red.
Entertainers, having found themselves unable to perform in typical venues, focused on making content online. Being one of the few comedians who continue to spread laughter via digital platforms, Red released clips from his one-hour special called "Yung Mataba." He also has an interview podcast talk show that he records live on his Facebook page called "Bago Matulog with Red Ollero," which is aimed to give people a chance to talk and be heard about what they love doing. "We want to perform. It's not just about the money. We want keep doing what we love doing. For now, we're going to stay ready, keep our wits sharp, and continue to make people laugh," says the young comedian, driven by sheer passion vowed.
Re-create
Songstress Shanne Dandan has released what she calls "a reimagining" of her signature song "Umaga" on May 24, the very same day it was first launched one year ago. This was the first time the Viva Records singer had re-arranged a song on her own. "I'm pressured because most of us, if not all artists, have nothing to do but wait [in quarantine]," Shanne confesses her main concerns to Manila Bulletin Lifestyle. "I want to create something, anything."
The original version of "Umaga" has a festive and inspirational sound. The lively tune abruptly begins with Shanne's powerful voice. The new rendition of the song, which is about encouragement and hope, has a more soothing and relaxing rhythm. This, perhaps, is a metaphor for the changing times and a reminder that everyone should try to be calm under these stressful circumstances. The message rings true: "Darating din ang umaga, (morning will come)." Day always follows night.
The musings of musicians
Neofolk rock band Pamphleteer has released their first album Collected Fiction under Offshore Records last May 15. Like most of the things happening now in quarantine, the launch of the record has been premeditated. "Does anybody really need art when people are suffering?" Aldus Santos, singer and songwriter of the band argues, before proving his point. "There was discomfort about the release, sure. But in the end, we figured this was going to be Pamphleteer's way of encouraging people, to sort of sensitize them to life, to pain, to joy. Whatever it is they're feeling. These are pretty numbing times, and we don't need more stuff to numb us further. We need the opposite. We need a prick to the finger and a kick to the gut."
The new album is but a stepping stone, the beginning for Pamphleteer. As early as the weekend Collected Fiction was officially made public, Aldus had started noodling for new song ideas. He is also cobbling together a crew for a possible music video.
"I'm no doomsayer and I'm a bad armchair social scientist at best, but I don't think we'll completely lose certain aspects of music, its communal nature, the staggering physicality of the rock show, but more like, we'll find a bandage for these setbacks until we get back to normal: a normal that, with hope, will be more mindful and more cautious in some respects," says Aldus of the current state of the music industry in the pandemic.
His advice to young aspiring musicians: "Keep writing, keep arranging, and entertain 'out-there' ideas," Aldus says. "Now that you're free of mall music, or bad Grab-ride playlists, or whatever it is your seatmates at work is playing on their Bluetooth speakers, listen to the greats. […] This virus is a curse, an opportunity, a gift. I am personally not thirsty for applause, and this kind of enforced quiet time is beneficial to someone like me. Think of it like camp."
Collected Fiction can now be streamed or downloaded through Spotify (https://spoti.fi/3cFsxVM), Apple Music (https://apple.co/2ZbcJGc), Deezer (https://bit.ly/2TdJpv8), and Tidal (https://bit.ly/3byRAbG).
Checkout this free sample of the title track "Collected Fiction" off Pamphleteer's new album.
Source: Manila Bulletin (https://lifestyle.mb.com.ph/2020/05/29/art-must-go-on/)